Station 19 episode summary 3×15 "The bad guy"
Hi everyone, one more week! We are already in Pride month! So Happy Pride month everyone! Despite this, I do not bring very good news and it is precisely that fate has wanted the first summary to be published this month to be one of the most dramatic of Maya and Carina, our favorite couple, are you ready? here we go!
The chapter begins with a flashback from Vic's past, specifically from the year 2012. The firefighter is in one of her Drama classes and is rehearsing for a play, in the middle of the rehearsal she begins to cry and her teacher who acts as director, tells him to go for a walk. When they are a little apart from the rest of the classmates, she apologizes for starting to cry and he tells her that she should never apologize for her emotions and then he is interested in what is happening to her. Vic is sad because her grandmother just died, he encourages her by telling her that she has a very big soul and that she can cry and tap dance at the same time without any problem, so Vic goes back on stage to rehearse.
We return to the present day Vic, Travis and Emmett have finished their shift and go to the kitchen, there they meet Maya and Jackson, a doctor from Grey's Anatomy and Vic's ex, and then Travis tells them a story about a girl who has gone to the park because she had a toothbrush stuck in her vagina.
Then Warren, who is the only one still on duty, tells Maya that he needs an ambulance driver and the captain proposes Emmett. He complains that he just finished a 24-hour shift but she insists that all she's ever done was stand at the front desk, so he's still fresh.
Everyone leaves except for Vic and Travis, so she takes the opportunity to ask her partner if she slept with Emmett. He tries to deny it at first but she is smarter than hunger and in the end he ends up confessing. As they are about to leave the park gate, Sullivan appears and tells them that they want to do an inspection from City Hall and that if they feel like doing overtime, then they have no choice but to stay.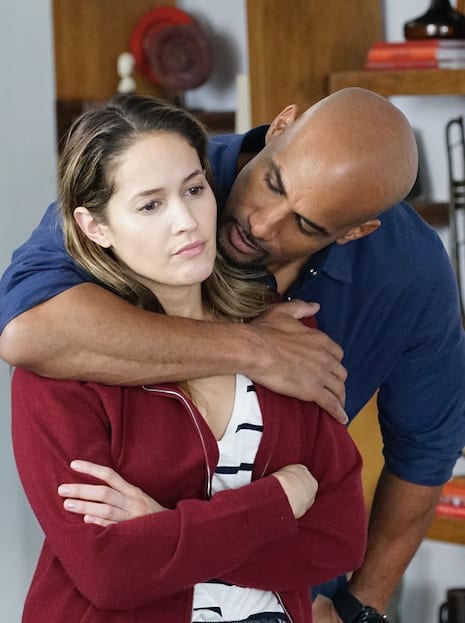 Jack proposes to Andy that they go to breakfast but she tells him that she can't because she has to go through her father's things because they are all occupying Sullivan's apartment. Andy leaves and Dean appears, he and Jack are making plans but suddenly a woman comes to the park with blood on her hands and they also have to stay to examine her. The woman is convinced that she has killed her son and as is logical she is very disoriented, while trying to find out what has happened to her she takes a knife out of her pocket.
Warren, Jackson and Emmett arrive in a forest to treat a patient, it seems that what he has is serious, so they put him in the ambulance and start treating him. The man is unconscious and has been stabbed multiple times. Warren tells Emmett to take the ambulance to Gray Sloan, but as he gets behind the wheel a woman gets in and sits in the passenger seat. He tries to stop her but she points a gun at him and forces him to drive, while in the back of the ambulance Warren and Jackson continue to attend to the patient, in the back when the ambulance starts up things begin to fall and that makes Warren and Jackson unable to attend to the patient while behind the wheel the woman continues to point at Emmett while forcing him to go faster.
Andy is at Sullivan's house looking at all the boxes with his father's belongings, Sullivan encourages her to start opening them and takes one of them, they start taking things out of one of them and he sees photos of his uncles whom he hasn't seen since that his mother died.
We change scenes and we see Travis and Vic doing one of the fire inspections in question specifically in what looks like a liquor store, the owner tells them that he is a friend of Dixon and that he has told him that everything is in order and that is licensed to conduct business.
We see a flashback again of Vic rehearsing the play, while they are singing two firefighters enter the theater, one of them is Pruitt Herrera, he tells them that they are going to do a fire inspection, the director seems upset because whenever they are going to premiere a new work they are going to do an inspection of the theater.
We flash back to the present, where the police are questioning the woman with the bloody hands and asking the fire department if she can be taken to Gray Sloan.
Warren and Jackson are still in the ambulance trying to operate on the patient with the ambulance in motion, Warren is very angry and starts to tell Emmett off, just at that moment the back doors of the ambulance open and Emmett and a woman appear with the gun who keeps pointing at her, she threatens them that if they don't give her all the painkillers she'll kill Emmett.
Finally we get to the content that interests us, Maya and Carina are in bed having a good time, when they finish they have this conversation:
Maya leaves the room while Carina, still in bed, watches her with a look of concern and bewilderment.
Andy and Sullivan keep looking through Pruitt's things, she begins to scratch because thanks to a letter she discovers that suddenly her father cut off the relationship with her uncles and her cousin when her mother died and she doesn't understand anything .
In the ambulance are Dean and a policewoman with the woman with the bloody hands, she begins to say that she thought it was safe and that she only went for a run but that a man attacked her and that she never thought he would use the knife.
We go back to Vic's past, Pruitt has just done the inspection in the theater, apparently something is blocking the emergency exit and they have to change it before the play starts and the director of the play says that it will waste their time and money.
We return to the present, Sullivan arrives quite upset at the place where Travis and Vic are doing the inspection, the two of them tell her the whole thing and when Sullivan opens the file of that inspection she sees that there is a post it where Dixon has left her a note telling her that that place already had a license, Sullivan apologizes because the inspections were already passed and he only had to sign them, obviously it has not passed any inspection but it is a clear case of corruption in which Dixon approves the licenses for some type of interest.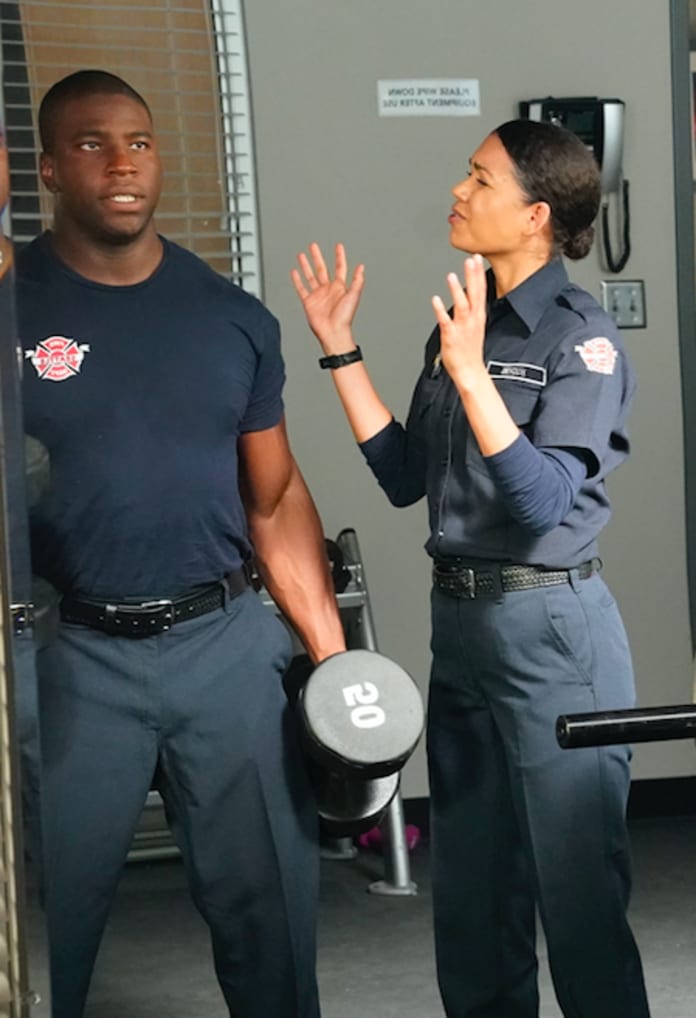 We return to Maya's house where the captain is aggressively cutting vegetables while Carina is sitting in front of her and looks at her half smiling:
Carina: Okay. How much are you going to cook with that angry face?
Maya: I'm just biting this.
Carina: Do you know that my father has bipolar I disorder?
Maya: Yes. You told me.
Carina: And my little brother has inherited it.
Maya: Are you talking about yourself or are you trying to make some kind of comparison? Because if you talk about yourself, I'm all ears, but in my family, we don't have mental illness.
Carina: With or without mental illness, the human brain is brilliant and cunning. That's why she shuts down when she doesn't want to know something.
Maya: Understood. You are talking about me.
Carina: What I'm trying to say, Maya, is that you're brilliant, and you may think you're too smart to deny reality. You may think you are too smart to have been abused.